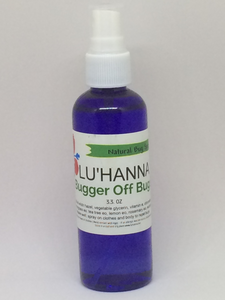 Bugger Off Bugs
LU'HANNA
Regular price $14.99 $9.00 Sale
Bugger Off Bugs is an all natural bug spray made with eight different essential oils. Love yourself and your family by using a non toxin spray to control bites from mosquitos. Your skin is the largest organ on your body. Ninety percent of what you put on your skin enters into your blood stream. You deserve natural ingredients.
3.3 oz BPA free plastic spray bottle
Bugger Off Bugs
distilled witch hazel
vegetable glycerin
vitamin e
Citronella Essential Oil
Geranium Essential Oil
Lavender Essential Oil
Lemongrass Essential Oil
Tea Tree Essential Oil
Lemon Essential Oil
Rosemary Essential Oil
Eucalyptus Essential Oil
Bugger Off Bugs: For the best experience shake well, spray on clothes and body to repel bugs. Because it has essential oils in it we recommend using caution around the eyes. For external use only.
The information on this website is for educational purposes only and is in no way intended to diagnose, treat, cure, or prevent any disease or health condition. If you have medical concerns regarding yourself or your family you should seek the advice of qualified, licensed health professionals. This information has not been evaluated by the Food and Drug Administration.